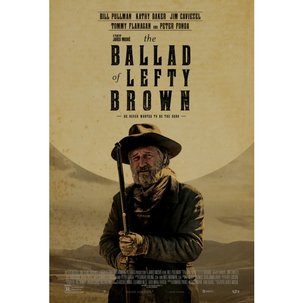 A coming-of-age western for a 63 year old cowboy.
Lefty Brown (Bill Pullman) is an old sidekick : loyal and never taken seriously, he's ridden with Wild West Legend Eddie Johnson (Peter Fonda) for his entire life. When Johnson is brutally murdered, Lefty is forced from his partner's shadow.
He sets out on a journey that reunites him with old friends US Marshall Tom Harrah (Tommy Flanagan) and Governor James Bierce (Jim Caviezel) to confront the ugly realities of frontier justice.
Shooting on glorious 35mm film, director Jared Moshé resurrects the big screen possibilities of this genre.
Written and Directed by Jared Moshe
Produced by Edward Parks, Neda Armian, Dan Burks, Jared Moshé
Cast: Bill Pullman, Kathy Baker, Jim Caviezel, Tommy Flanagan, Joe Anderson and Peter Fonda
Running time: 111 min. / Language: English / US Distributor: A24 (Moonlight)
Year: 2017